If you are interested in e-commerce, you know. Woocommerce Vs. Shopify has been discussed for a long time. But this war still has no winner. Both offer great solutions to their users. The main difference between them is that they bring different approaches to e-commerce.
Choosing between the two best e-commerce platforms on the market is not easy. Because both platforms have outstanding features. For this reason, getting advice or researching on the internet is not enough.
Fortunately, we have prepared this article to help you. Here are all aspects of Woocommerce Vs. Shopify.
Woocommerce Vs. Shopify: Key Features
Woocommerce is one of the most popular e-commerce plugins for WordPress. It is a good choice for businesses that already have a WordPress site and want to turn it into an e-commerce site. On the other hand, Shopify is a cloud-based and multi-channel e-commerce platform. Businesses can organize their entire online store with Shopify.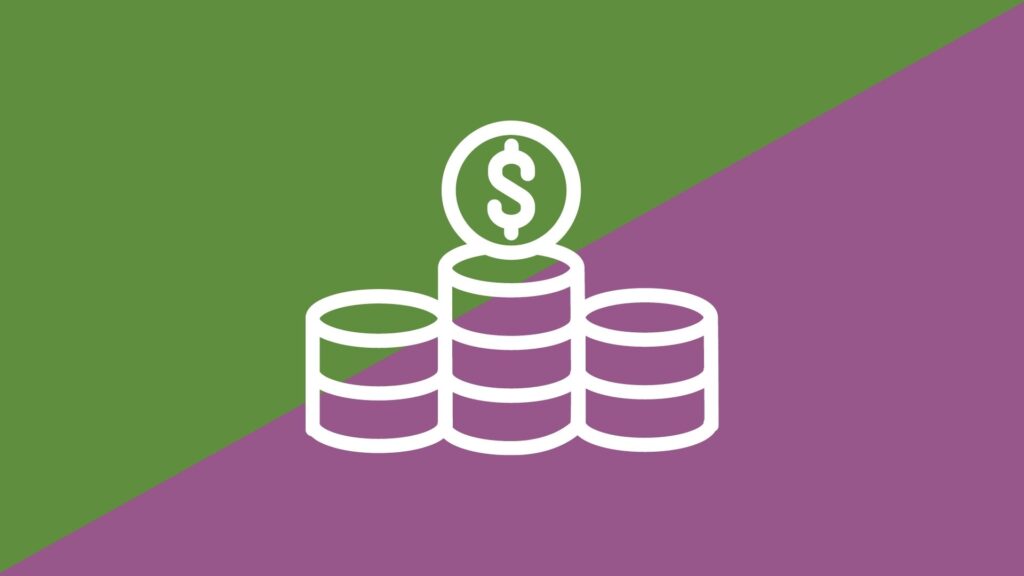 Woocommerce Vs. Shopify: Pricing
Price is one of the most important issues for e-commerce store owners. If we had to pick a winner, it would be Woocommerce. Because the basic features of Woocommerce are free. Packages range from $14 to $32 a month for businesses that want to go beyond the basics. In addition to these costs, using Woocommerce should allocate a budget for domain and security transactions.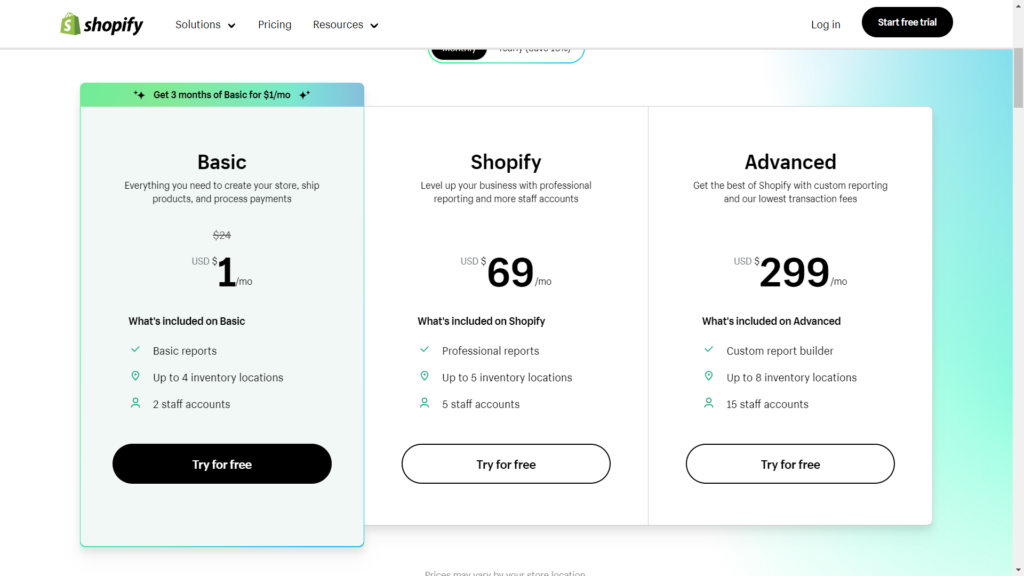 Shopify's basic plan starts at $29 per month. This plan also includes a domain name, hosting SSL certificate, and the option to use a subdomain. The "advanced" package with extensive features is bill $299 per month. For the Shopify Plus package with much broader features, need to speak to a Shopify representative.
We can say that Woocommerce is the winner of this comparison because its basic package is free. Even if businesses have to switch to paid packages in the future, it is a great advantage for companies that the first period is free. They get the opportunity to get to know the product without paying. If they do not like the product at the end of the day, it is possible to turn to alternative options without losing money.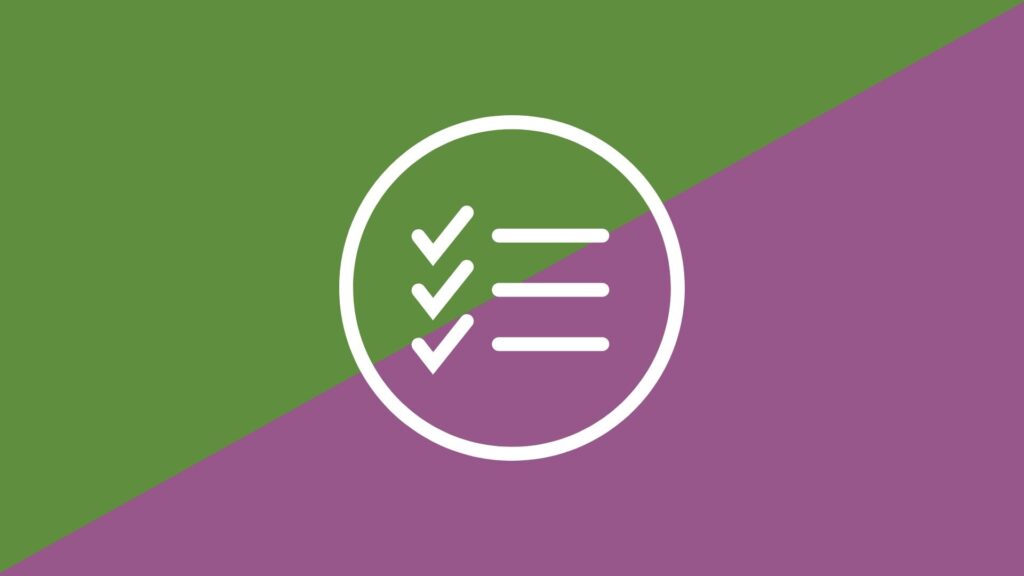 Woocommerce Vs. Shopify: Features
In this comparison, we will consider the standard features of the platforms. It provides additional features for businesses with various plugins and integrations on both.
Woocommerce
Woocommerce, in its standard form, offers a powerful list of features to get your WordPress site into e-commerce, such as blogging, embedding products, etc.
Built-in sorting features that make it easier for customers to filter, and support unlimited products or images are among the prominent features of Woocommerce. The seamless integration of the e-commerce site established with Woocommerce into WordPress is also a great advantage for businesses.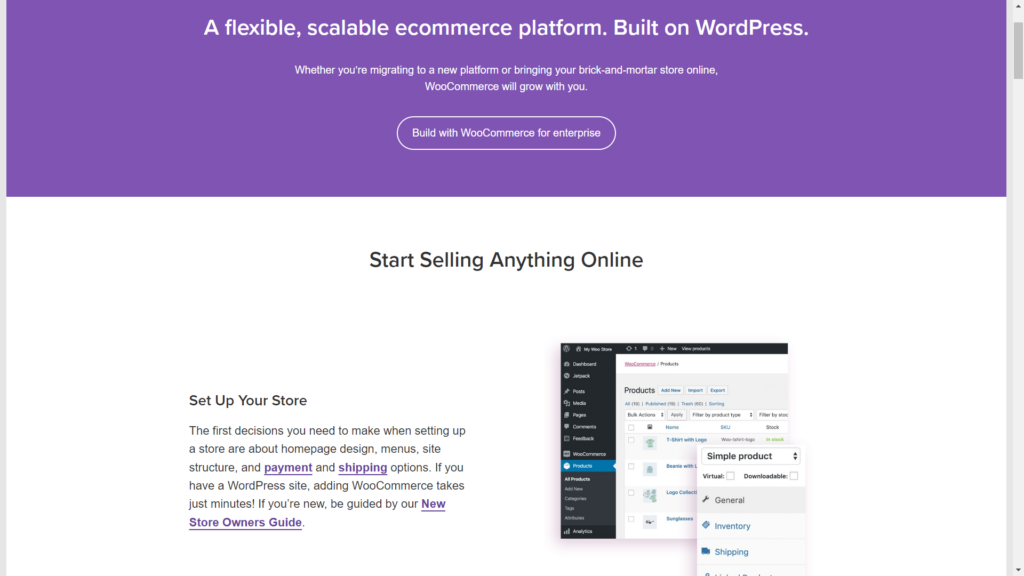 If you want to set up a basic e-commerce store, Wocommerce is sufficient at first, but over time you may need advanced features and improvements. In this case, you may have to invest money in plugins and integrations. For example, Woocommerce's live chat does not come as standard. Businesses need to work with 3rd party platforms to take advantage of such features.
The features that come as standard in Woocommerce are as follows;
Easy installation on WordPress
Tag and category feature for inventories
Follow-up of product ratings and reviews
Border product image and gallery
Option to place products and payments on any page
If you have the time and resources to devote to customization, you can get a lot out of Woocommerce and strengthen your hand with plugins that suit your specific business needs and goals. However, if you don't have a lot of technical and setup knowledge, or if you're not working with a WordPress developer, Woocommerce's basic plugin-free features may fall short next to Shopify's advanced features.
Shopify
Shopify has more core features compared to Woocommerce in its standard form. As in Woocommerce, the missing features can be developed with 3rd party apps.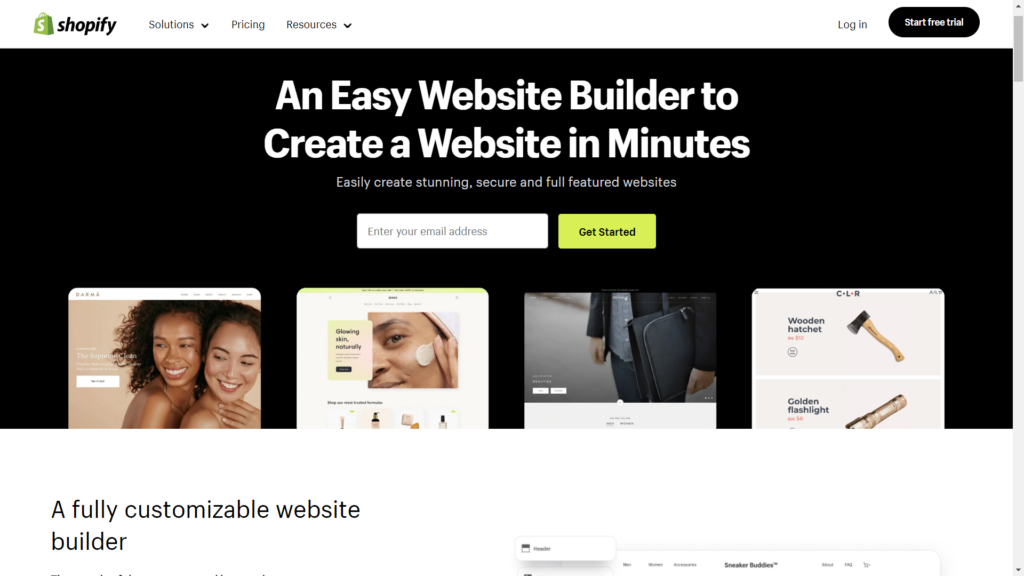 Shopify offers many features to businesses at no additional cost. First of all, it makes the work of businesses easier with the more than 70 e-commerce schemes it provides. In addition to these ready-made schemes, it provides standard features such as unlimited product lists, unlimited file uploads, and blogging. Instant payment options for customers, abandoned cart recovery, and customer activity reports are among the features that come with the standard package.
Shopify Vs. Shopify Plus: Key Differences
The features that come with the Shopify standard package are as follows;
More than 70 themes and templates.
Automatic taxation and shipping charges
Abandoned payment recovery
Customer accounts and profiles
Ability to sell on Facebook
SEO built-in product tags
When we compare the standard features, we can say that Shopify is the winner of this comparison. Although Woocommerce provides free access to some e-commerce features, it may be necessary to spend additional money as the site grows, as the basic features will not be enough. By paying upfront with Shopify, businesses get a set of features they need and follow a consistent line in e-commerce.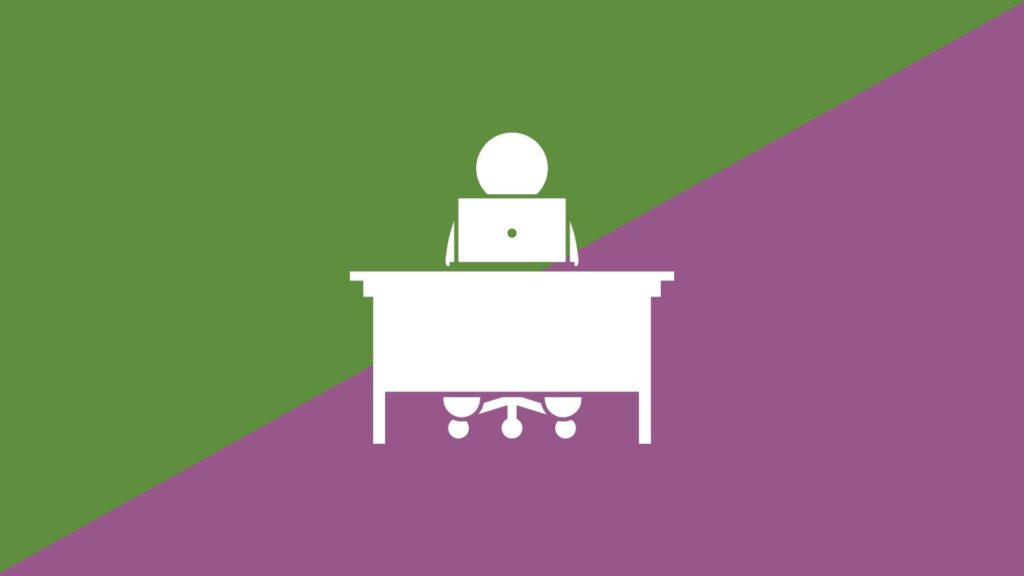 Woocommerce vs. Shopify: Ease of Use
Ease of use can be considered as the area where these two platforms differ the most. This concept, which is very important for those who are new to e-commerce, is a significant reason for the preference for businesses.
Woocommerce
If you already have a WordPress page, Woocommerce will integrate seamlessly and easily with this page. However, Woocommerce is an open-source plugin, unlike Shopify. Therefore, you may need to manually manage updates and security.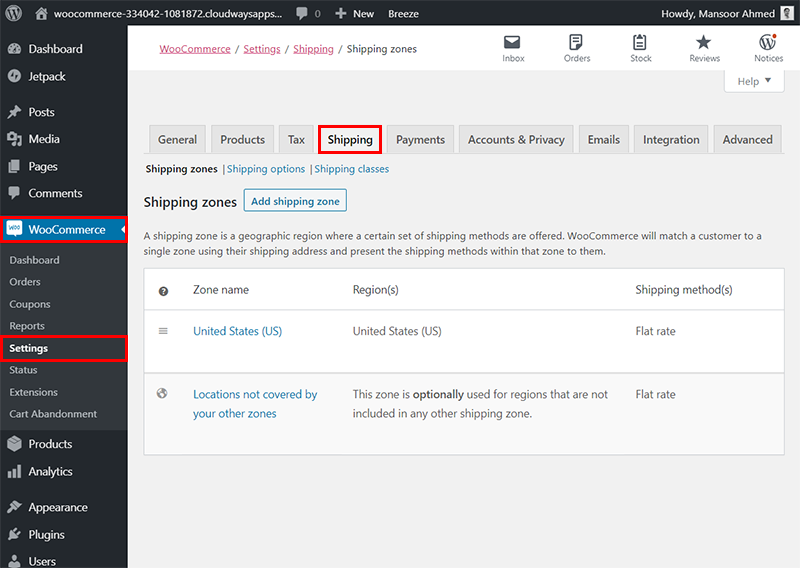 The key feature of Woocommerce's user experience is that it works with WordPress sites. If you have a WordPress-based, it will be easy to start e-commerce. You can activate e-commerce features without creating new pages or adding lists.
But that could mean more customization plugins at some point. It may increase the workload in a possible problem or disruption. On the other hand, the ease of use, simplicity, and meeting the needs of Woocommerce.
In addition, if you want to customize your e-commerce site but do not want to spend time on it, Woocommerce may not be the most user-friendly choice for your business. A platform is a powerful tool that meets many needs of companies in e-commerce. However, it is not a ready-to-use plugin.
Shopify
Shopify might be a better platform for businesses that don't prioritize customization. Although the platform has fewer customization possibilities than Woocommerce, it is easier to use and has more features.
Shopify is not an open-source platform. In other words, businesses do not need to think about issues such as finding a provider's security issues. Shopify, which we can consider an all-in-one e-commerce platform, can be the right choice for store owners who will create an e-commerce store for the first time or who do not care about customization.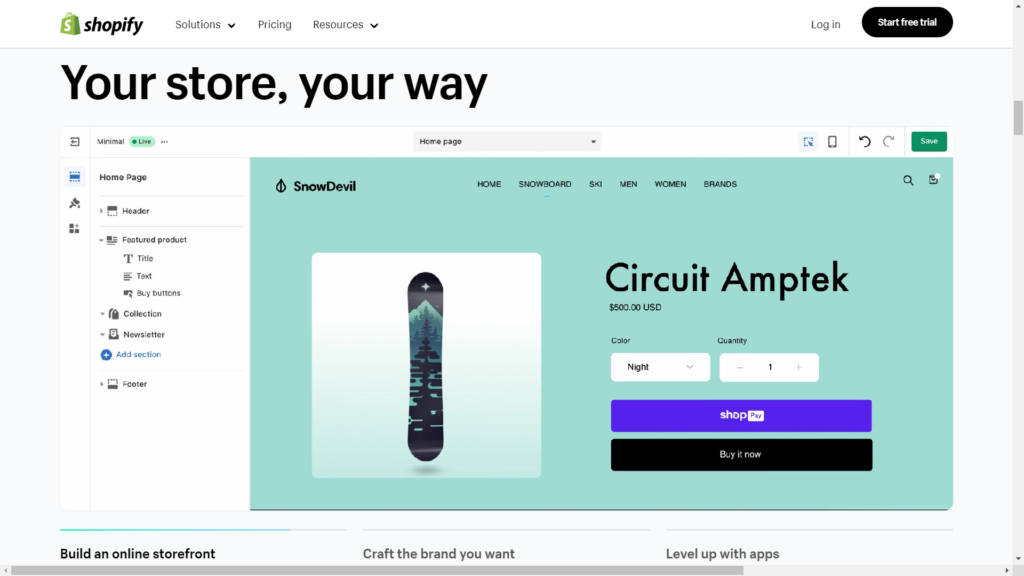 When businesses first sign up for Shopify, the platform guides them in making product entries and editing details. They can choose themes from the Shopify library and activate their e-commerce stores quickly with ready-made templates.
Shopify's ease of use and simple setup are virtually unrivaled. Shopify is a great choice for businesses that want to create an e-commerce store that's functional, sleek, and simple. We can easily say that Shopify is the winner in this category, thanks to its ready-to-use and ease of installation.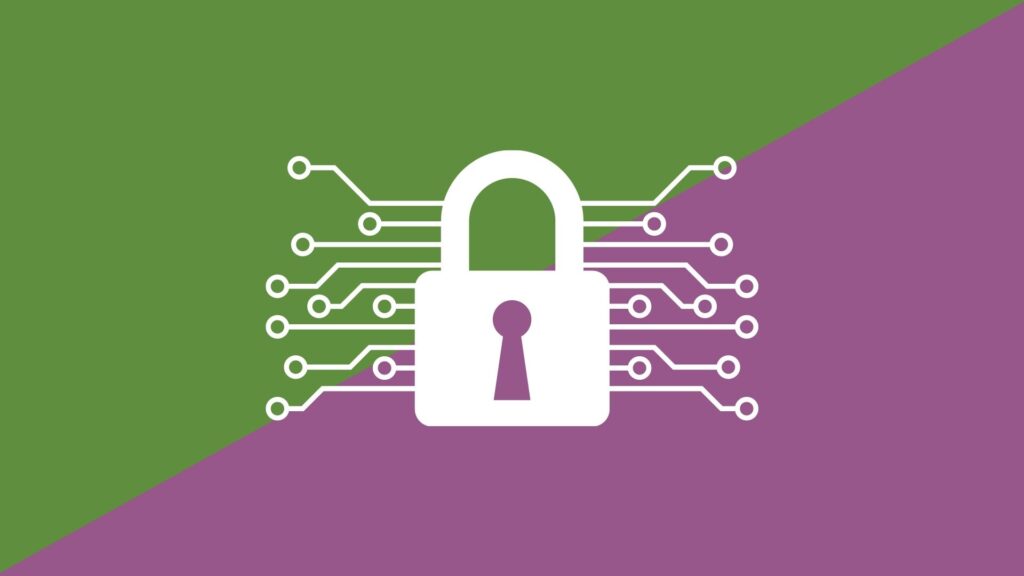 Woocommerce vs. Shopify: Security
Security is a critical issue for credibility, vision, and reputation. If an e-commerce store is hacked or exposed to malware, its reputation can be damaged. Therefore, the platform to be chosen for security is an essential factor.
Woocommerce
Security in Woocommerce is the responsibility of the e-commerce owner. This responsibility includes purchasing an SSL certificate and taking measures such as authentication. To ensure security, it is necessary to install the correct plugins and their controls. In addition, businesses need to make efforts for PCI compliance of the e-commerce store. PCI is one of the online security standards used to eliminate security concerns in online payments. It does not mean that Woocommerce is less secure than Shopify. So, businesses will do more work and research to ensure site security.
Shopify
Shopify can directly guarantee security to businesses as it hosts e-commerce stores. Business SSL certificate or PCI compliance comes with the plan. In this way, the company ensures that its e-commerce stores are safe. This method is the definitive solution for e-commerce store owners who have no previous experience in this field.
In short, Shopify has a built-in security system. Since Woocommerce runs directly on WordPress, the e-commerce store owner is responsible for the security of information such as user information and transaction details. That's why Shopify's built-in security makes it a winner in this category.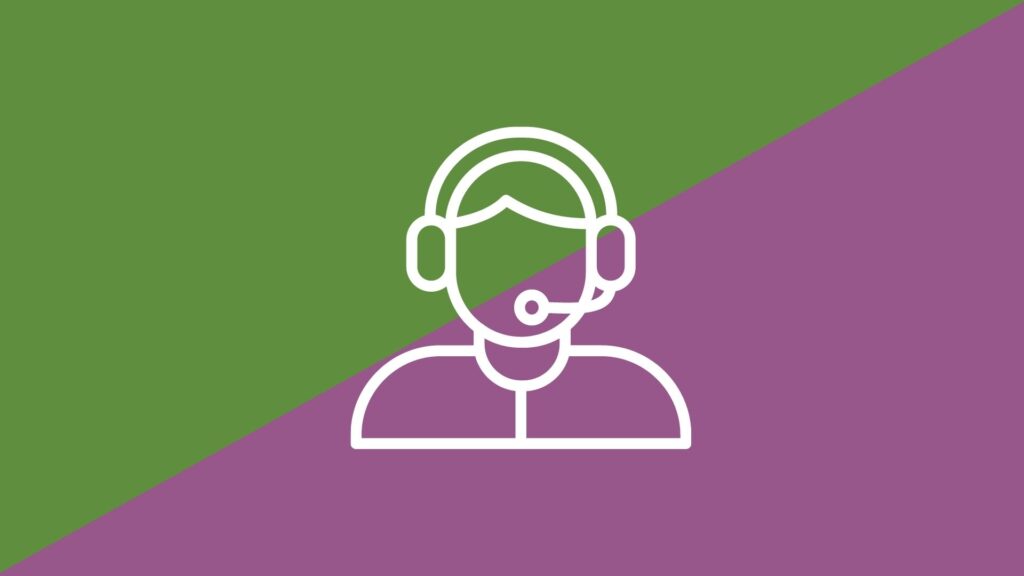 Woocommerce vs. Shopify: Support
If you are not an e-commerce expert or web developer, you need a support team when you have a problem or ask questions. The last thing you want is to get stuck on something and not have anyone you can contact.
Woocommerce
Despite being a free tool, Woocommerce has some powerful support options. Online claim system and self-service library where you can submit written requests. Third-party help documentation is available for topics not included in the self-service library.
If you are dealing with problems without contacting someone, this system will be sufficient for you. However, this support option may not be very suitable if you are dealing with the issues you are stuck with by getting help from the phone.
Shopify
It provides omnichannel support to Shopify users. In addition to these channels, there is a Self-service library. In this way, users can quickly resolve their problems by contacting channels like live chat, e-mail, and phone. If they wish, they can solve problems by using self-service documents.
In this category, we can identify Shopify as the winner, as it provides both multi-channel support and self-service documentation.
Top 9 Most Popular E-Commerce Platforms
Woocommerce vs. Shopify: Summary
Now you can dedicate more easily what is best for your e-commerce store. Let's still give a summary;
While Woocommerce is a plugin that can turn a WordPress site into an e-commerce store, Shopify is a built-in e-commerce platform
Shopify is a packaged product, while Woocommerce meets the needs of constant change and development.
Shopify is more suitable for beginners, while Woocommerce is better for those with basic technical skills.
Although Shopify is easier to manage and set up, there are certain limitations, and Woocommerce is flexible.
Which platform you choose will depend on your technical skills, budget, and approach to e-commerce. We believe that you will make your choice according to the needs of your business. Contact us if you want to add live chat to Shopify or Woocommerce. We integrate with both!