What comes to mind when you say E-mail vs. Live chat?
There are a lot of communication channels such as E-mail, social media, chatbots, and Live chat in customer communication. Which of these channels is most suitable for customer communication? There is no single correct answer to this question. Each channel has its user base and powers. Therefore, we cannot say that one of them is the best and the rest are insufficient. However, considering the prominent features and usage purposes of these channels, some channels can be given priority according to the purpose of the business. It depends on the structure, its goals, and the target audience.
In this article, we compare the two most popular customer communication channels, e-mail, and Live chat. Then we listed the advantages and disadvantages of both systems. 
Why Are Different Channels Use In Customer Communication?
Digital platforms give customers and businesses access to many channels at a low cost. The timeless, easy-to-use, and popularity of these channels are among the features that make them attractive. Each digital channel comes to the fore with its different features.
For example, E-mail communication stands out with its ability to reach large audiences, while Live chats stands out with its real-time interaction and personalization features. 
The feature of each channel may serve a different purpose, and the user base may also be different. For this reason, businesses are active in more than one communication channel to keep communication alive with all of their target audiences.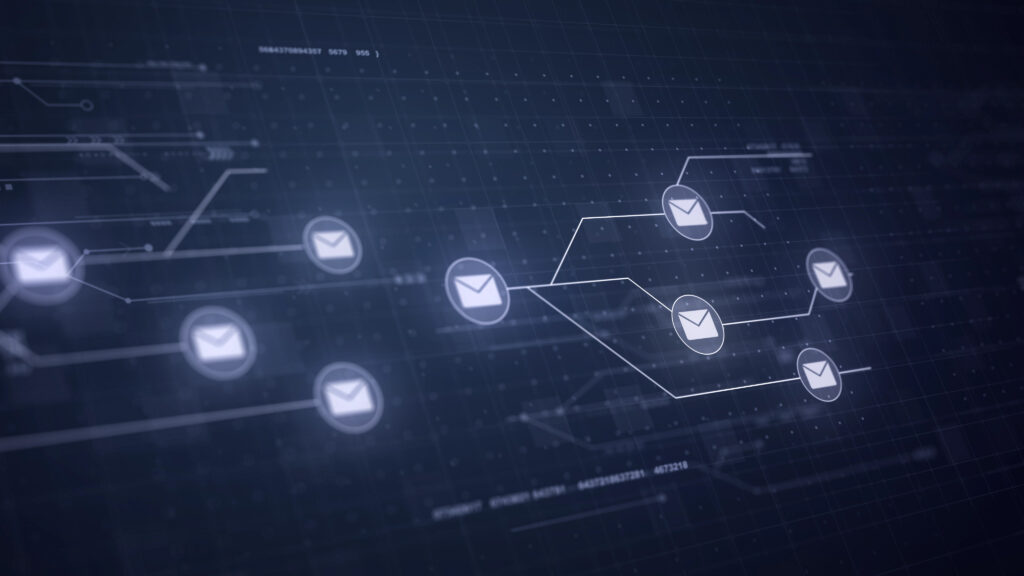 E-Mail in Customer Communication
E-mail is a communication channel whose use has increased with the widespread use of the internet. It can be used in advertising, promotion, and customer communication. An E-mail can reach large audiences at once. For this reason, it is important for brands that want to keep the attention of their target audience.
By communicating with your customers via e-mail you can do a lot of things like;
 To inform your customers about new products and campaigns,
Supporting your customer relations with e-mails you will send periodically,
Increasing your brand awareness,
To expand the customer portfolio,
submitting images, plain text, video links, infographics, or feedback forms.
E-mail, which is an important communication channel, also has some disadvantages. For example, brand mail may be perceived as spam. It also creates a backlog in your email inbox. This will slow down your customer communication. Email is slower to clarify and resolve issues than alternative communication channels.
Despite its disadvantages, e-mail is a powerful communication method to communicate with customers. You can also increase your brand awareness with the e-mail you designed.
Live Chat in Customer Communication
Thanks to Live chat, you can instantly communicate with your customers visiting your website. Live chat, which provides real-time and two-sided interaction. 
 With Live chat, you can offer your visitors a faster and more effective customer experience. Your customers can purchase products without leaving your site or contact the directory instantly if they face a problem.
By communicating with your customers via Live chat you can do a lot of things like;
Speeding up customer communication
To produce quick solutions to customers' problems,
Creating an omnichannel communication process,
Reducing backlogs in customer communication,
Directing your potential customers visiting your website to purchase,
 Providing a personalized customer experience.
In some cases, Live chat fails in customer communication. For example, if you do not support your LiveChat with a well-designed chatbot, it will be no different from other communication channels. When there is no chatbot, your Live chat will not be active 24/7. This causes interruptions in customer communication.
In addition, although this system turns your customer communication into an effective and dynamic form, you cannot interact with a potential customer who does not visit your website. Therefore, it should be supported by other customer communication channels.
8 Essential Live Chat Tips To Increase Sales
E-mail vs. LiveChat
Now let's come to our main topic. E-mail vs. Live chat 
We have covered both communication channels extensively. Any communication channel will be sufficient alone for an effective customer experience. All channels need to be managed professionally. The strengths of each communication channel are different. For example, you can reach a wide audience by e-mail and attract the attention of your current or potential customers. But Live chat does not support this. 
On the other hand, your visitor may want to learn about your business or go directly to purchasing. With live chat, you can direct your customer to the products and meet their demands without wasting time. However, it is not possible to do this via e-mail. Although it is actively used for support and problem resolution today, they are not the first choice of customers and businesses.
As a result, although Live chat in customer communication is a much more effective and dynamic way than e-mail, it is not enough on its own. LiveChat and e-mail are essential channels for a perfect customer experience. However, the purpose and prominent features of both are different. When it comes to perfect customer experience, remember that you need to manage all your communication channels most effectively.
83% of consumers cite good customer service as the most important factor when deciding what to buy, aside from price and product. (Khorus)
Top 8 Customer Service Tools To Engage Your Audience
Perfect Customer Experience on Every Channel
While the E-mail vs. Live chat competition is intense, it's hard to say that there is a clear winner.
Every channel is of great importance in customer communication. For this reason, businesses should pay the same attention to every channel they interact with their target audience. Otherwise, there will be inconsistencies in the customer communication process. In this case, it will damage the brand perception. It will directly affect customer satisfaction.
All-in-One Customer Communication Platform Qpien offers perfect solutions to businesses. You can improve the customer experience with Qpien's easy-to-use features.
With Qpien, the omnichannel customer communication platform, you can easily control your Live chat on your website, as well as your social media channels such as Instagram, and Facebook, and also customer communication on your e-commerce site from a single channel.
In addition, you can make your customer communication enjoyable and effective with Qpien's features that facilitate work such as Temachat, private label, and smart filtering.
Try Qpien for free for omnichannel communication and much more in customer communication!