Intercom is a strong platform that provides all kinds of convenience for businesses. So why do they look for Intercom alternatives?
In the beginning, Intercom, used as a simple chat tool, has been added to many features over time. These powerful features soon increased the popularity of the vehicle. On the other hand, these features have also made it easier for businesses to manage processes professionally.
However, Intercom's extreme pricing, complex subscription plans, and some shortcomings in basic customer service are driving businesses to find a strong Intercom alternative. These alternatives have easy to use compared to Intercom. It also has budget-friendly packages.
In this article, we compared the best Intercom alternative software in terms of features and prices. We plan to help you decide on the best software for your business.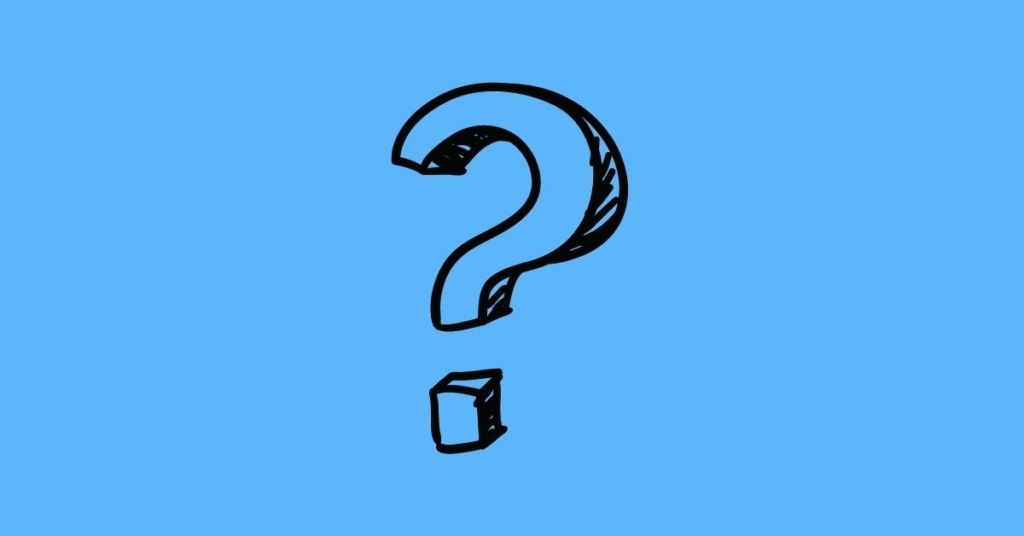 What is Intercom?
Launched in 2011, Intercom is a leading software that helps teams improve customer engagement and provide active support to customers.
The tool, which has powerful features in sales and marketing, helps businesses create insights while gaining new customers. Besides its powerful features, Intercom is among the most popular customer service tools in recent times. So why are they still looking for an Intercom alternative?
Why Should You Use an Intercom Alternative?
When we say customer service, it is difficult to find a tool that appeals to every business equally. It is valid for Intercom. However, the reasons we will list below are among the significant reasons for searching for Intercom alternative software.
High pricing.
Complex plans and unpredictable billing.
Lack of basic customer service features.
It has a difficult-to-use interface.
Hard to reach customer service.
The purpose of this software for businesses is to get maximum benefit for the money they pay. They can provide professional customer service for less money for an intercom alternative software.
Top 11 Intercom Alternatives
Qpien
Qpien is a powerful Intercom alternative for businesses seeking omnichannel customer communication.
The All-in-one customer communication platform, Qpien, provides convenience to businesses with easy-to-use and powerful solutions. It is a convenient and efficient customer communication tool for any company that cares about customer communication.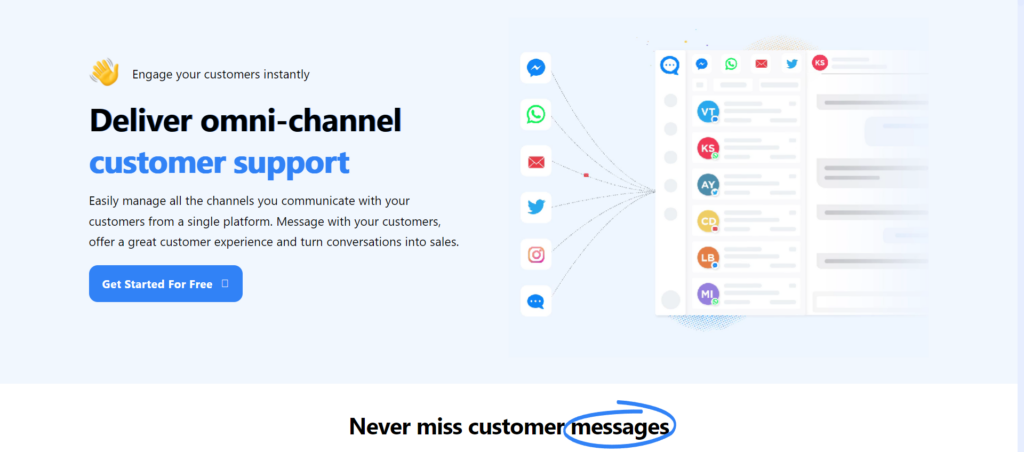 Qpien's LiveChat allows businesses interested in e-commerce to communicate with their visitors instantly. On the other hand, the platform integrates seamlessly with leading e-commerce software such as Shopify, Woocommerce, etc. It helps businesses develop a seamless customer experience.
In addition, Qpien brings together leading customer communication channels such as WhatsApp, Facebook, and Instagram. This way, businesses can manage all their communications from a single center.
In addition, thanks to marketplace integrations, it is possible to respond to customer comments and feedback. It is an important feature that directly affects customer satisfaction.
Qpien has many features that support teamwork and automate workflow processes. With features such as automatic response, canned response, and customer profile creation. This way companies can offer a faster and more personal customer experience.
Finally, Qpien's effective reporting features allow you to monitor the intensity of both customer traffic and support teams.
Pricing
A 14-day free trial is available.
Paid plans start at $19 per month.
Zendesk
Zendesk is an advanced customer support platform with a wide range of features. Now let's take a closer look at the features that make Zendesk an Intercom alternative.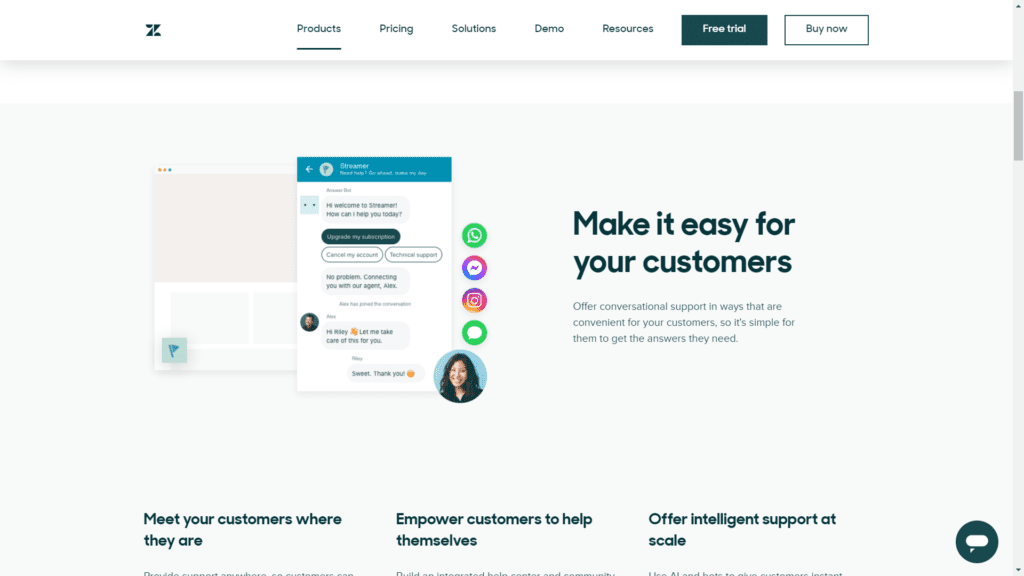 Similar to Intercom, Zendesk offers many customer service tools, including a help desk, chat, and marketing tools.
Zendesk's ticketing system allows all customer calls to be managed from a single center. It helps businesses for a more personalized customer experience.
Besides, plans and licenses can be costly for businesses that want to use Zendesk.
Pricing
Zendesk does not have a free trial. But some premium features can be tested.
The only customer support package starts at $19 per month.
The basic package for customer support starts at $49 per month.
Top 10 Zendesk Alternatives For Business
Tidio
Tidio is a fast and efficient way to solve customer problems for businesses. It has similar features to the Intercom and can be considered an affordable Intercom alternative.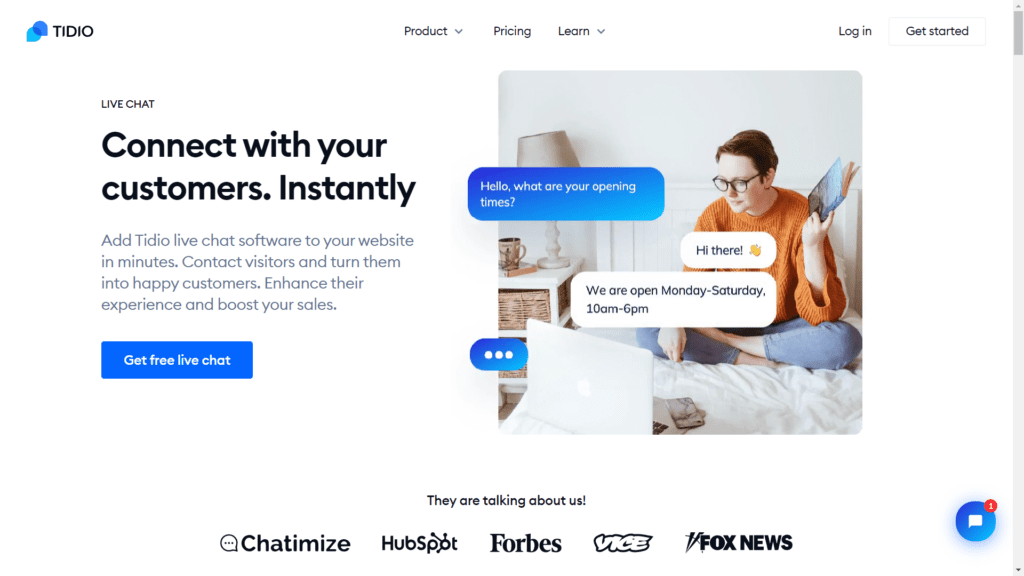 Its easy-to-use interface is what makes it attractive to customer support and marketing teams. The tool, which can be easily installed with Javascript code, can also be used as a plugin for platforms such as WordPress, Shopify, and Wix.
The platform has powerful solutions for businesses that fall behind their customer support goals. Omni-channel communication, e-commerce chatbots, and real-time visitor tracking features help businesses manage customer interactions professionally, although not as powerful as Intercom. The free chatbot features customization and unlimited conversations.
Pricing
It has a free plan.
Their paid plans start at $15 per month.
A 7-day free trial is available.
Drift
Drift is a close alternative to Intercom because it adds weight to sales and marketing.
It also has powerful features such as automatic answers and customer support. It has powerful automated bots that can assist support teams with various tasks.
Drift's powerful chat tool can perform tasks such as scheduling appointments, and referrals to the help center. It also has features close to the Intercom.
Pricing
A free trial version is available.
You need to contact the Drift team for exact pricing.
LiveAgent
LiveAgent is among the most affordable Intercom alternatives for customer communication.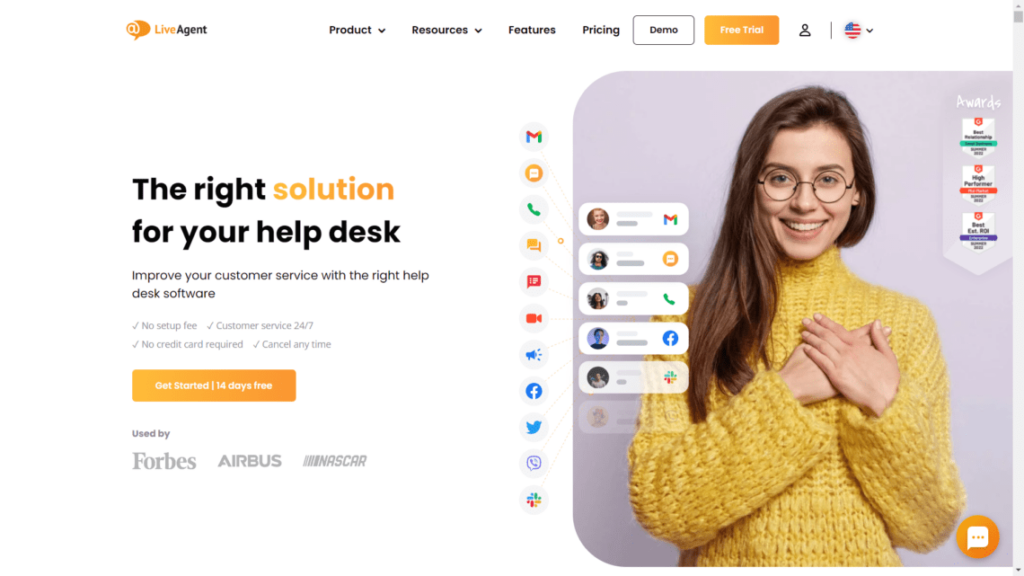 With features such as built-in call center management, customer support, and SLA management, it provides powerful solutions in the customer communication of businesses. In addition, the platform offers various communication channels and integrations for customer support.
It has critical features such as automatic demand distribution, and workflow automation. Tools such as LiveChat, a ticket system, social media, and a knowledge base are ideal for speeding up customer communication and improving customer experience.
Visitors can be tracked in real-time. This provides significant benefits to businesses in terms of reporting and analysis.
Like Intercom, LiveAgent offers a claims system, chatbot, and customer profile features. It also integrates easily with powerful applications like Salesforce, and Zendesk.
It has a free plan.
A 14-day free trial is available.
Premium plans start at $15 per month.
Top 10 Live Chat Software for Business in 2023
Freshdesk
Freshdesk can be considered a powerful Intercom alternative designed for small businesses.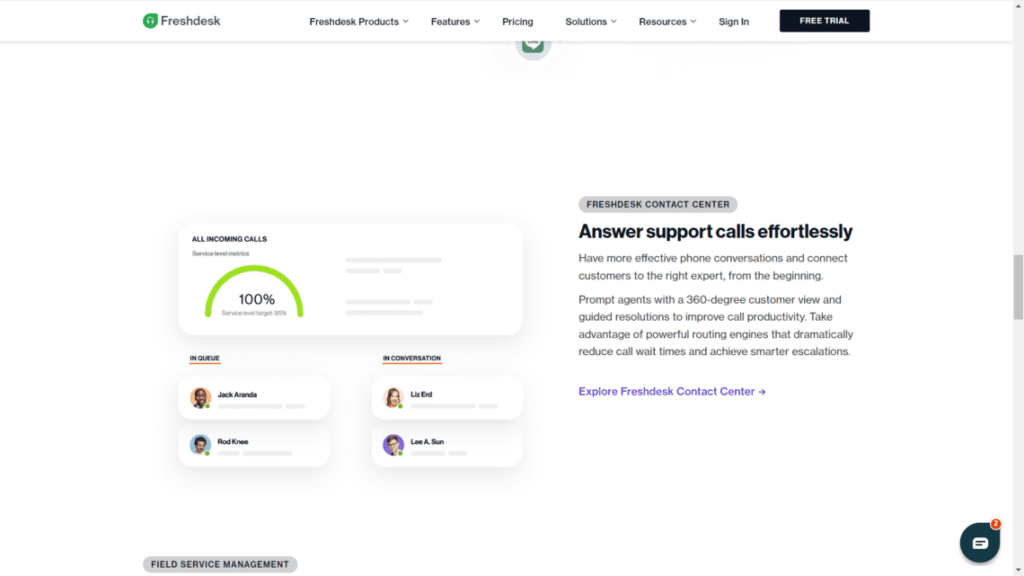 The application, which has similar features to Intercom, has more economical plans. One of the most important reasons why it is close to the Intercom is that it can manage a call center for customer support. In other words, it's a great solution for businesses looking to set up and develop a call center.
Freshdesk also has features such as help desk software, messaging and chatbot, and omnichannel communication.
Pricing
It has a free plan.
A 21-day free trial is available.
Their paid plans start at $15 per month.
Zoho Desk
Used to create communication processes from different communication channels, Zoho Desk is a strong alternative to an Intercom help desk.
Businesses can control ticket volume or closely monitor customer sentiment using Zoho Desk's AI-powered tool, Zia.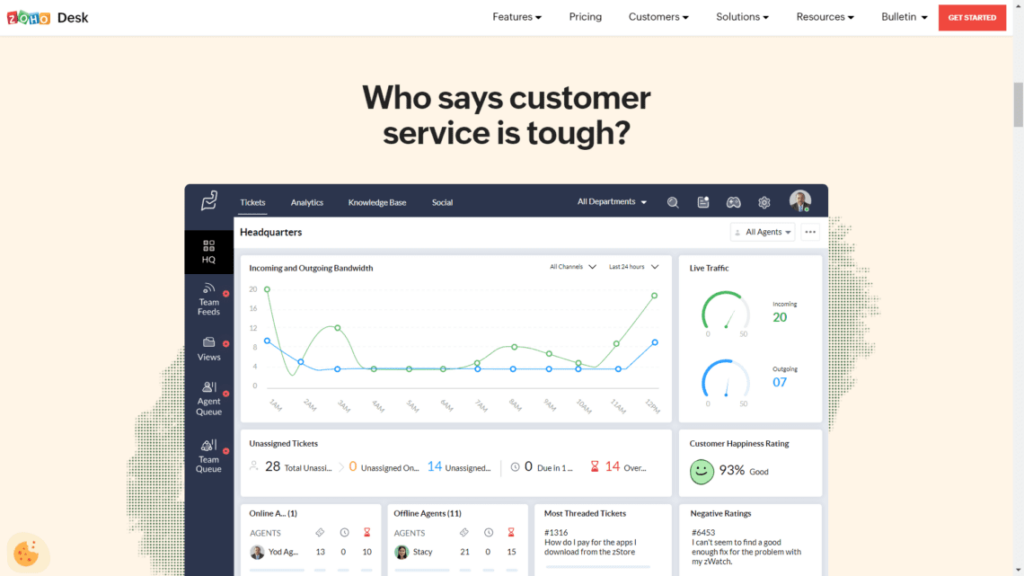 The application features a dedicated knowledge base or user community to resolve customer issues. Additionally, Zoho Desk's mobile app allows agents to manage customer requests anytime, anywhere.
The app automatically assigns customer requests to the appropriate representatives, and can also be effectively used with Zoho CRM and other tools. Zoho Desk is a powerful Intercom alternative for sales-oriented teams.
Pricing
It has a free plan.
A 15-day free trial is available.
Premium plans start at $9.
Hubspot Services Hub
Hubspot Services Hub is one of the best alternatives for large businesses that already use Hubspot.
The platform is an advanced marketing tool with various features for SaaS and other online businesses.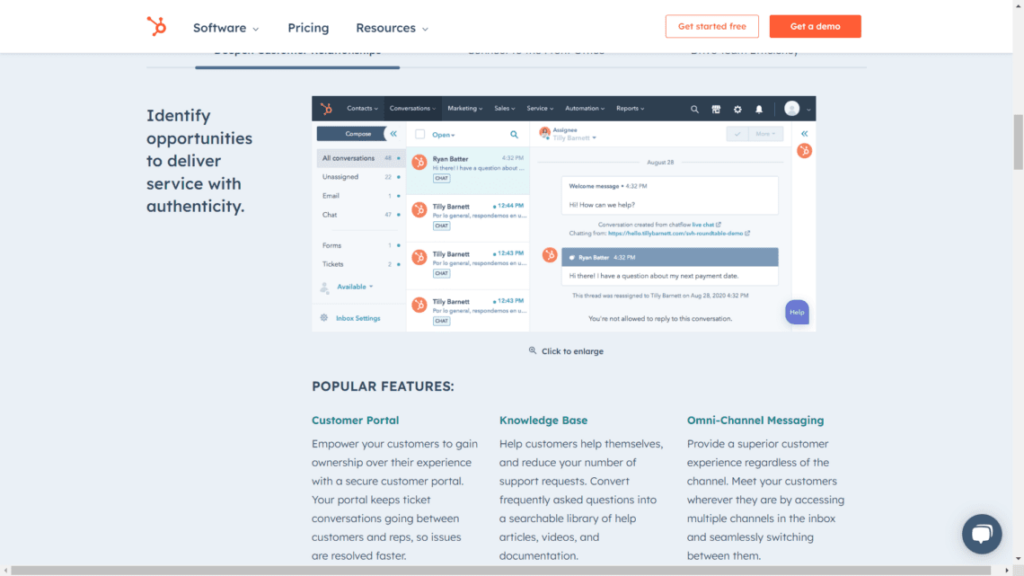 Its customer service software allows support teams to scale their customer service operations and consolidates all their processes into a single platform.
It has essential features like help desk automation, chat tools, customer feedback surveys, and a knowledge base.
Pricing
It has a free plan.
Premium plans start at $45.
HelpScout
Helpscout can be a powerful Intercom alternative for businesses that want to manage customer service based on email.
The app is an easy-to-use and web-based help desk software. Share inboxes to improve teamwork while improving workflow.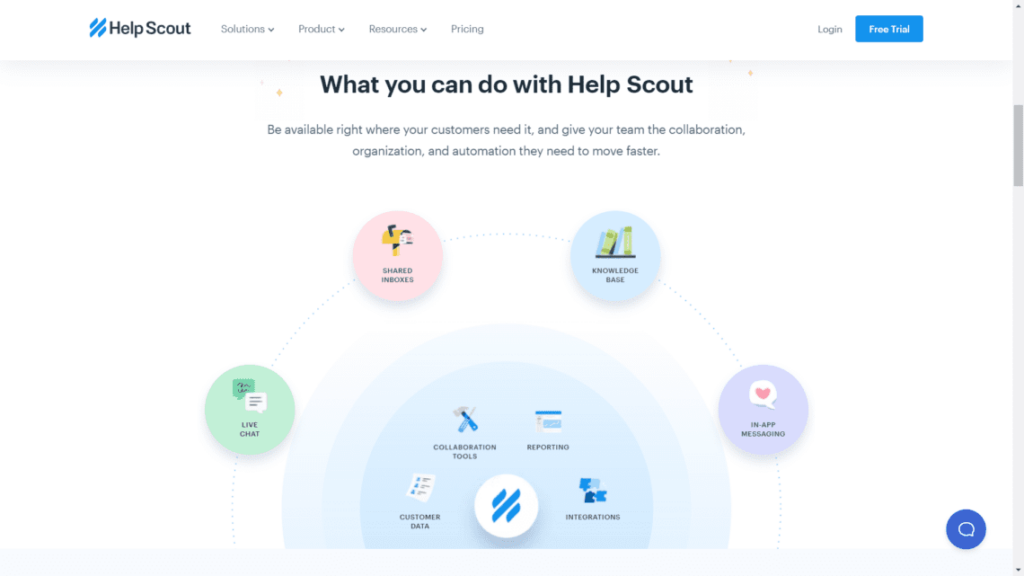 While supporting customer communication through different channels, it also helps teams develop customer relationships.
In addition to all these, it has powerful solutions for businesses with LiveChat, a knowledge base, and strong integrations.
Pricing
A 15-day free trial is available.
It starts at $20 per month.
14 Most Popular Help Desk Software for Businesses
LiveChat
LiveChat is one of the most suitable Intercom alternatives for low-budget businesses.
The platform has powerful features for businesses looking for solutions in customer support, marketing, and sales. It has a support tool, reporting, a claim system, and automated routing solutions.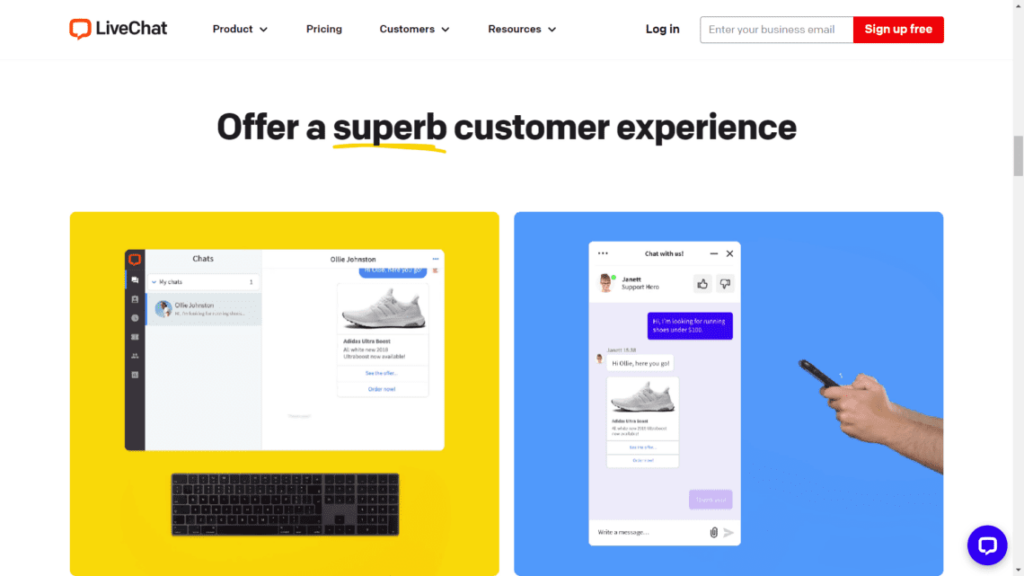 Additionally, the live chat tool has a wide variety of features to offer such as automation, canned response, and personalization.
One of the popular help desk and live support solutions, LiveChat is a powerful Intercom alternative with predictable pricing.
Pricing
A 15-day free trial is available.
Its basic plan starts at $20 per month.
Gorgias
Gorgias is a powerful Intercom alternative for e-commerce-focused businesses.
The app is customer service, live chat, and a help desk. Gorgias seamlessly integrates with powerful e-commerce infrastructures such as Shopify, Bigcommerce, and Magento for easy setup.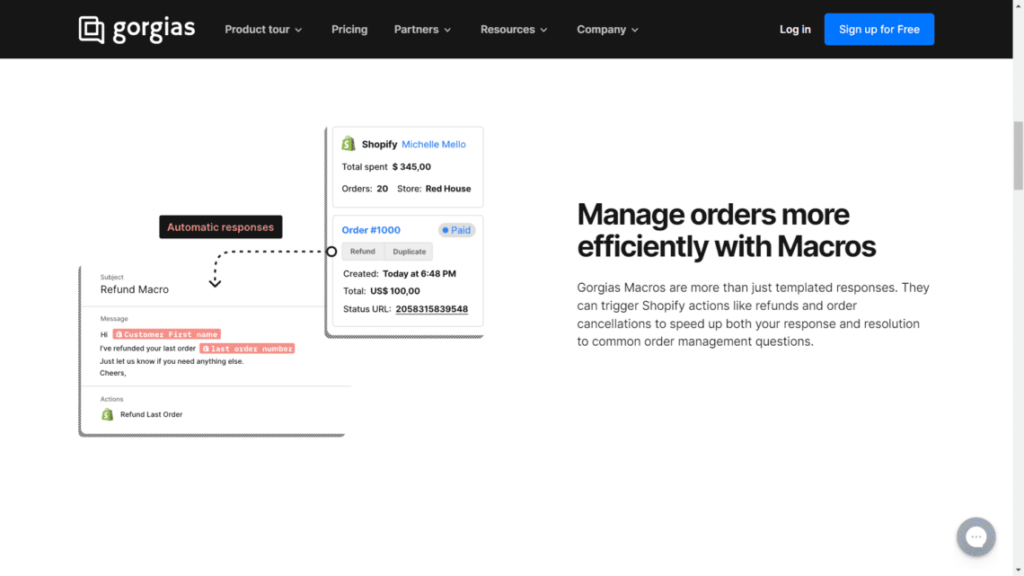 Gorgias enables businesses to increase the efficiency of their online stores, manage their purchasing processes, and manage customer demands seamlessly.
The platform gathers support channels such as live support, e-mail, social media, and telephone in a single platform. In addition, businesses can seamlessly manage all purchasing, returning, and post-purchase processes with Gorgias. Therefore, it is a customer service software that e-commerce businesses should consider.
Pricing
A 7-day free trial is available.
Its basic plan starts at $50 per month.
Working with Intercom Alternatives
Intercom has all the features a business would need for customer service. However, in some cases, it can be difficult to use. On the other hand, its high prices and complex billing can lead businesses to alternative brands.
The Intercom alternatives listed above offer potent solutions for reaching your goals and for sales and marketing.
Choosing the right platform is much easier once the needs are identified. Businesses can use the trial versions to find the best software and decide on the platform that suits them best.