Not long ago, Instagram was a social networking platform where beautiful photos were shared. Today, however, the messaging channel is used effectively within the online store or customer service. Now users first visit social media platforms to get information about a business. Similarly, Instagram prefers direct messages to convey customers' problems and requests.
Instagram DM has become a valuable channel for managing processes, whether for product information or order control. An effective way for businesses to engage with potential customers and enhance existing customer experiences.
In this article, we will talk about why Instagram direct messages are essential. Then we will share the most effective Instagram DM examples that you can use to improve your customer service on Instagram. Let's start.
What is Instagram Direct Message?
An Instagram direct message is a messaging feature offered by Instagram that allows users to send private and group messages. You can use this feature instantly, such as WhatsApp or Facebook Messenger, and send messages with rich content.
Benefits of Using Instagram Direct Messages
Using direct messages actively can help businesses improve customer relationships. Private messaging is vital because it can be tailored to customers' interests and needs. This personalized communication can help build customer trust and strengthen the relationship.
Businesses can instantly communicate with their customers through Instagram direct and increase their sales by promoting their products to these customers. It can be effective for companies that use Instagram effectively and want to direct traffic to their website.
On the other hand, Instagram can be an effective tool for answering direct customer questions and requests. By using it effectively, you can improve the overall customer experience and increase your customer satisfaction.
Yes, Instagram direct messages are an effective way to improve customer communication, build customer trust, and increase sales. But first, you have a roadmap on how to do it. How about help? We have prepared several ready-to-use DM templates for you.
The Most Effective Instagram DM Examples
Below we have prepared a few examples of Instagram DMs that can be used for different purposes. However, we have a few suggestions before moving on to these.
Decide on your purpose before composing the message
Make sure your message is clear and understandable.
Prepare content suitable for your brand's language.
Connect with your recipients by customizing the messages you send.
Add a call to action (CTA) to your message so recipients know about the next step.
Instagram DM Examples for Promotional Messages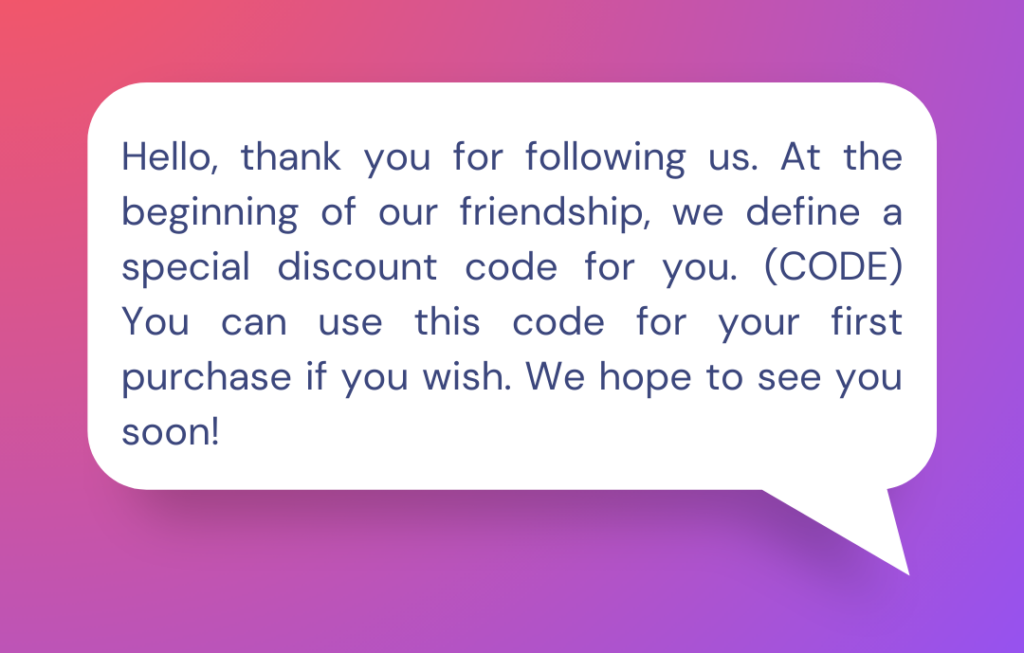 Hello, thank you for following us. At the beginning of our friendship, we define a special discount code for you. (CODE) You can use this code for your first purchase if you wish. We hope to see you soon!
We have great news! We offer a special 30% discount to our followers for a short time. (PROMOTIONAL CODE) You can take advantage of this privilege by using the code we gave you.
Hello, the stock of our product you asked for has been renewed. You can find it here. (LINK) If there's anything else we can help with, you can contact us.
Hello! We wanted to let you know about our limited-time discount campaign on our website. We don't want you to miss this opportunity. You can check it out here. (LINK)
Instagram DM Examples for Feedback Messages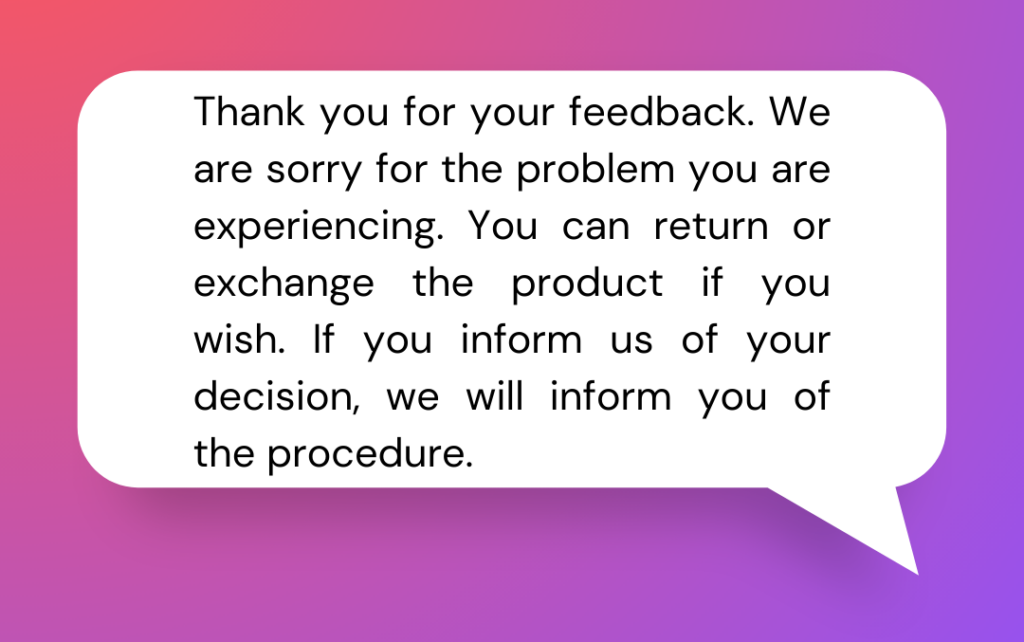 Thank you for your feedback. We are sorry for the problem you are experiencing. You can return or exchange the product if you wish. If you inform us of your decision, we will inform you of the procedure.
Hello! We have received your feedback. Thank you for your nice comments. Your opinion is important to us. We want you to know that we are working harder every day to improve ourselves.
Hello, first of all, thank you for your feedback. I will forward this matter to my teammates as soon as possible.
Instagram DM Examples for Customer Service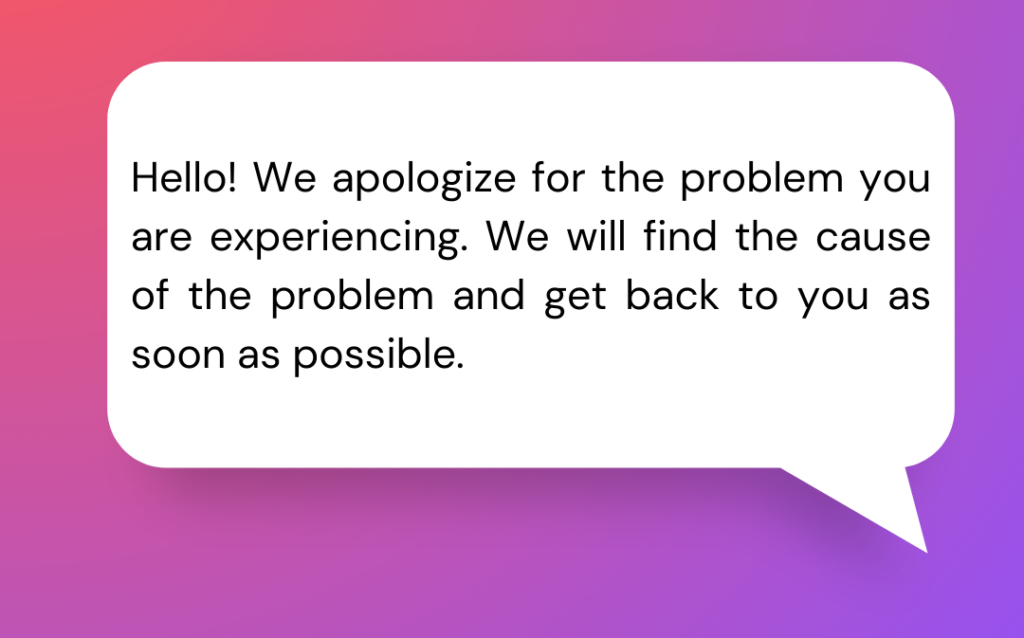 Hello! We apologize for the problem you are experiencing. We will find the cause of the problem and get back to you as soon as possible.
Hi, your support request has reached our team. We will reach you within 24 hours at the latest.
Hello (CUSTOMER NAME), we are working on the issue you encountered. We'll let you know when the fixes are complete. If there's anything we can do until then, contact us.
Instagram DM Examples for Return and Refund Policy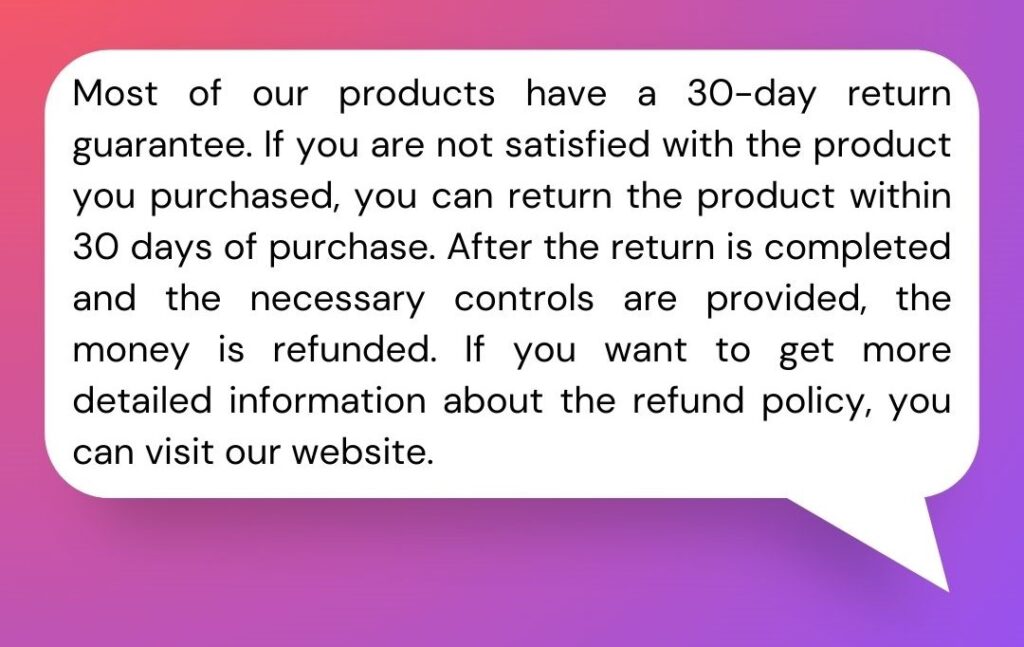 Most of our products have a 30-day return guarantee. If you are not satisfied with the product you purchased, you can return the product within 30 days of purchase. After the return is completed and the necessary controls are provided, the money is refunded. If you want to get more detailed information about the refund policy, you can visit our website.
The return period for our products is 60 days. To begin the return process, please contact our customer support team at (CUSTOMER SUPPORT EMAIL ADDRESS). If you want to get more detailed information about product return and return policy, you can visit our website. (LINK)
Hello! We value customer satisfaction more than anything else. If you are not happy with our product, you can return it within 14 days. But you need to make sure that the product is original and not damaged in any way. For more detailed information about the return process, you can contact our customer support teams via WhatsApp.
Instagram DM Examples for Shipping Options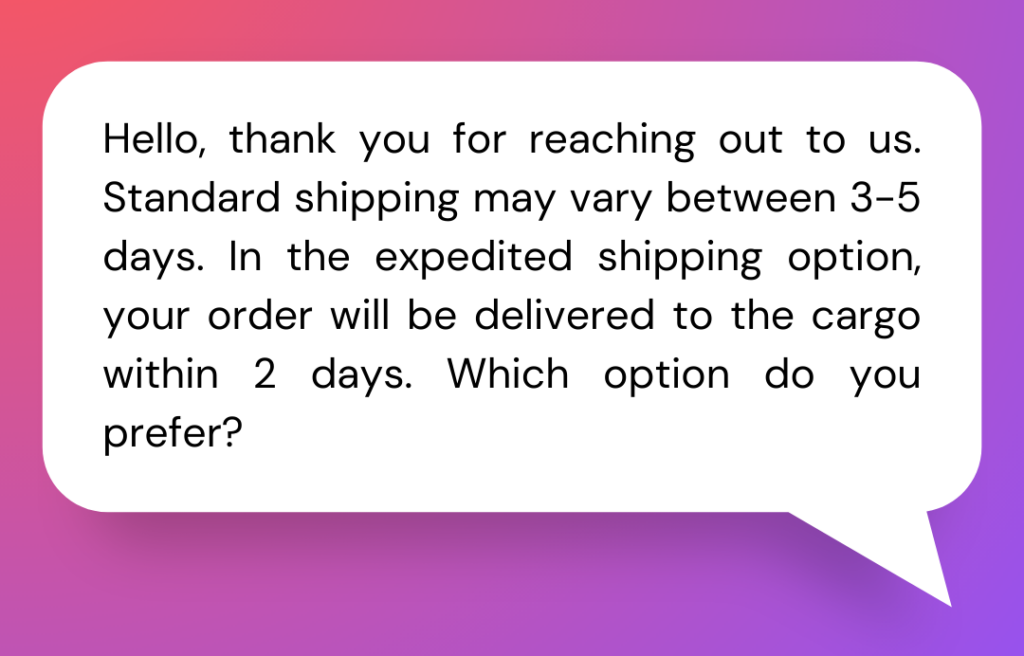 Hello, thank you for reaching out to us. Standard shipping may vary between 3-5 days. In the expedited shipping option, your order will be delivered to the cargo within 2 days. Which option do you prefer?
Hello! There is no shipping fee for your purchases of 200 TL or more. If you need expedited shipping, we also have expedited shipping at an additional cost.
Hello! International shipping is subject to additional costs. You can visit our website for more detailed information on this subject. (LINK)
Instagram DM Examples For Orders Related Questions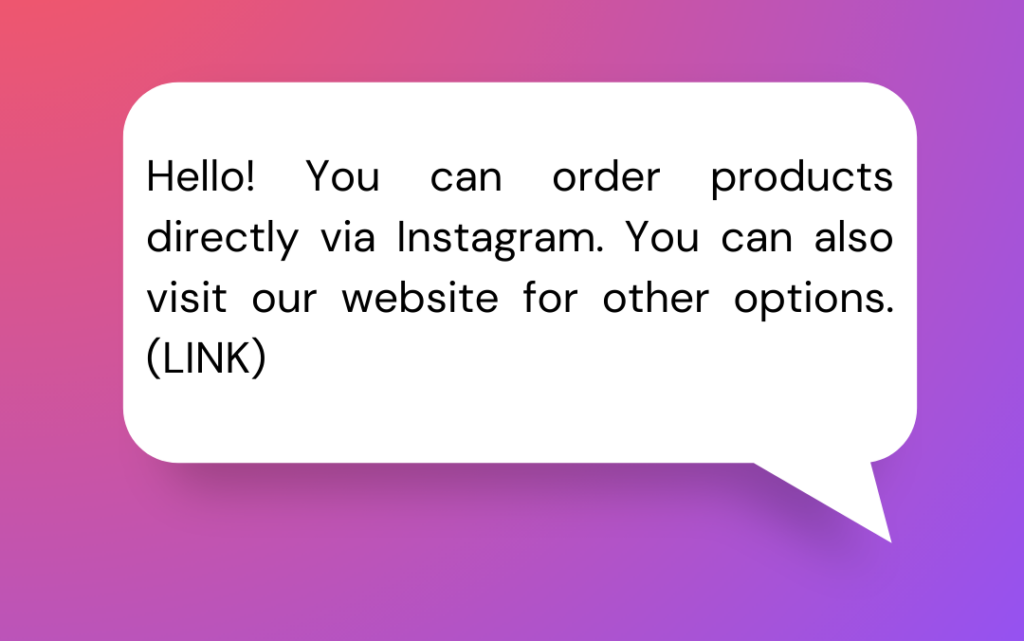 Hello! You can order products directly via Instagram. You can also visit our website for other options. (LINK)
You can view all the information about your order from your customer account. If there is a problem, just contact us.
Hello! You can use the cargo tracking number to find out the latest status of your order. If your cargo tracking number has not been sent to you, please contact us.
How to Use Instagram DM Examples?
There are two methods you can follow to use Instagram DM examples effectively. First, you can customize DM samples and save them as canned responses to your Instagram business account.
The other method is to use a customer service platform like Qpien. The benefits of Qpien to businesses are as follows;
You can manage your Instagram messages together in your other customer channels. (WhatsApp, Facebook, live chat)
You can automate your conversations with automated messages or use quick replies to answer repetitive questions in no time.
By closely following the comments and likes of your customers, you can prevent customer requests from being overlooked.
You can improve intra-team communication by assigning representatives to customer conversations and taking advantage of the team chat feature.
By connecting Qpien to your Instagram account in minutes, you can efficiently communicate with your customers on a single screen. You can try Qpien free of charge for 14 days to easily manage sales, marketing, and support processes in different channels.